Testing the Flume 2 for wifi water monitoring and leak detection
July 6, 2021
Why I added a smart water meter to my smart home
Last year I discovered, the hard way, an intermittent leak in a pipe run under the foundation was emitting through my bathroom wall. It left a pretty expensive mess to deal with and, due to the nature of it, was difficult to locate, since it seemed to trigger seemingly randomly, even with the help of leak detection experts.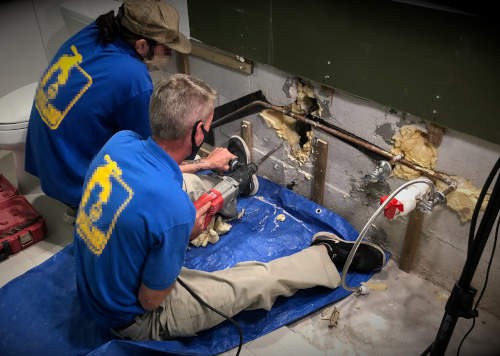 This left me paranoid and for peace of mind I started researching to see if there were any whole-house smart wifi water monitors or leak detectors I could install. In my research I found several promising ones which I'll go over in the remainder of this article, why I ultimately chose the Flume 2, and my experience with it in the 3 months since.
As I go through these I want to mention that as an Amazon Associate I earn from qualifying purchases made through links on this site which helps support it, but doesn't add any cost to your purchase. At the end of the article, you can also use my Flume referral code for $20 off a Flume2.
Top 3 Best Smart Water Leak Detectors in 2021
I narrowed my list down to the Flume 2, Moen Flo, and Streamlabs. Unlike leak sensors you place under likely places a leak might occur like near a toilet or under a sink that alarm when water is detected, these all attach to the main water supply for your house allowing them to measure the water flow for your entire house.
They have intelligence to alert you to unusual water usage. The Moen Flo even has an integrated shut off valve allowing you to remotely shut off water to your house in an emergency.
The Moen Flo is the most expensive, but the integrated water shut off is worth it in my opinion and the specifications claim it can detect up to 1 drop per minute or "microleaks". It can also detect high pressure and has a temperature sensor for freeze warnings.
However, for the Moen Flo installation you need enough exposed pipe to cut your existing pipe and install the Flo and also have a nearby source of power to plug it into. The Streamlabs doesn't require plumbing, but it also needs power, and isn't as sensitive as either other option (it theoretically wouldn't be as good at finding small leaks).
Florida houses like mine don't have power nearby the main shut off and there is no basement or crawl space to access more of the pipe than this.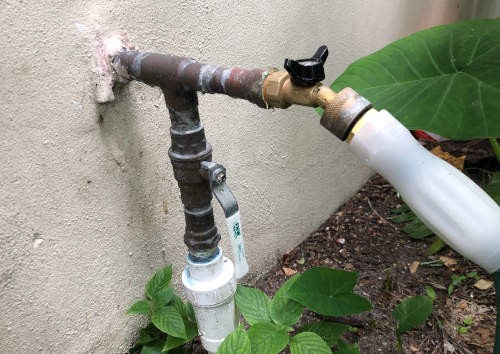 This ultimately led me to the Flume 2 because it non-invasively attaches to your water meter and is powered by replaceable lithium batteries that last for 2-4 years.
Read on for more about my first hand experiences with the best compatible option for my house, the Flume 2.
Flume 2 Installation
The below how-to video goes over my experience installing the Flume water monitor on a Tesla4 water meter. Flume claims to be compatible with about 95% of water meters in the US, but you can use the chat on their website where they can help you confirm before purchasing.
It's 5 minutes and worth your time, I promise 👇
Installation Steps
Download the Flume app to your phone, register
Locate the water meter in your yard
Strap Flume alongside your water meter
Plug the wireless bridge into power in your house that was wifi signal
Pair using the app prompts
Run some water from a faucet to calibrate when the app prompts you
My installation was straightforward and everything detected right away.
How does Flume work? Does it work well?
Somehow Flume reads the magnetic field of your water meter allowing it to detect, they claim, as low as .01 to .03 gallons per minute or around 1 gallon per hour which would be close to 152 drips (assuming 15,140 drips in a gallon) of water per minute without needing to invasively cut and splice the Flume into your plumbing.
The first thing I did was test the flow rate by filling up the known volume of a bucket with my garden hose and was shocked that it was exactly right. Flume also let's you check the accurancy through a tool on their website from your account there by comparing meter reads at least 24 hours apart.
Leak detection
There has been a few times since I've installed it where I've had Flume notify me by text and push notification that a leak was detected. I immediately panicked and started looking around the house.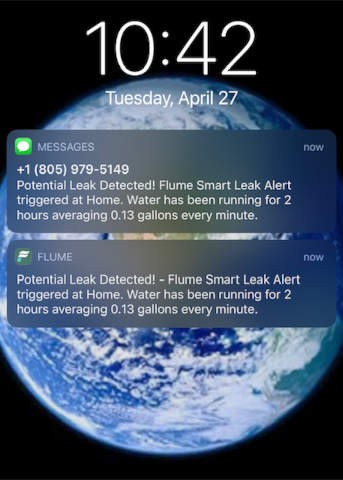 I discovered the first time was a bathroom faucet not shut off all the way and the other two were when my temporary hose-end lawn sprinkler had a constant small drip from its O-ring after it shut off. The first time, their customer service even sent me a follow up message to make sure everything was ok!
So leak detection does work, but it does require a constant detectable use for minimum 2 hours. If it is something under 1/100 of a gallon it may not pick it up automatically.
The usage chart is good for picking up usage at odd times of day. For example, if nobody was using the water in the middle of the night and you see usage that isn't attributable to maybe your ice-maker or a flushing toilet it might mean something strange is going on.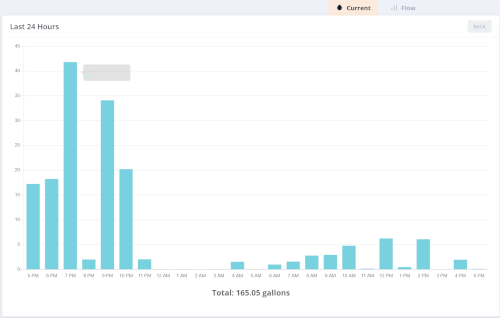 Cost savings!
When I was going over my policy with my agent earlier in the year they briefly mentioned something about credits being available for smart water monitoring devices. After I installed the Flume, I reached out to my insurance company, and they applied a credit to my policy that ended up paying for the cost of the Flume 💧🤑!
Beyond that, you realize how much water certain activities use which let's you be more aware which helps to conserve. For example, hand watering the lawn exceeded my household water usage on some days which I had no idea beforehand.
Final thoughts
I've been really impressed with the Flume. It has been really accurate and reliable. It even notifies me when it loses connection to the internet--which has only happened when my ISP is out. Flume also provides access to your data through an API though I haven't tested that yet, but is important to many.
Currently there is a referral promotion for -$20 off the price if you purchase through this link or you can see if there is a better sale on Flume 2 on Amazon.