What to Buy your Model Y
October 10, 2021
When I ordered my Tesla Model Y in June 2021 it had about a 3 month delivery lead time. I spent that time researching what accessories I felt I'd really need for my car, what are nice-to-haves, and what were probably a waste of money. The accessories I felt I needed Day 1 came down to floor and cargo mats, screen protector, mud flaps (I'll explain), garage door opener (I'll explain again), and a way to cleanly mount my radar detector. With supply chain issues and the popularity of Tesla some of the accessories were backordered or threatening to go out of stock so I ordered them ahead of time.
Now that the model Y arrived I had a chance to install these car accessories and thought I'd share my reviews of them to save like-minded people some time obsessing and pouring over forums and blogs like I did. As an Amazon Associate I earn from qualifying purchases made from links on the site which is a great way to support it if you are interested in any of the Tesla accessories I mention below.
Tesla Floor and Cargo Mats
While researching floor mats for the Model Y I realized how different regional preferences are on them. I've never felt the need to buy aftermarket floor mats in any previous car I've owned, but I am in Florida and it seems to be a bigger item of importance in places with more snow and mud.
However, my last car had several unfortunate incidents with passengers spilling water bottles on the floor leading to unfortunate smells and I also wanted to protect the trunk cargo area from trips to the garden center for mulch and dirt. I figured trunk and cargo mats made sense to keep the model Y looking nice.
There are a lot of options for floor mats for the Tesla Model Y. Ultimately, I chose ones from a company called Tuxmat because I felt they had the best look and function over the competitors. I go over my experience in this Tesla Model Y Tuxmat floor mat review below.
Here is a breakdown of competing floor mats to show how I ended up choosing Tuxmat.
| My Rank | Floor Mat | Pros | Cons |
| --- | --- | --- | --- |
| 1 | Tuxmat | Looks good, good fit, waterproof | Higher price (worth it) |
| 2 | Tesmanian | Good fit, waterproof | Plastic / cheap looking |
| 3 | 3d Maxspider | Well reviewed | Obnoxious logo/branding |
| 4 | Autailors | Well reviewed | Not a fan of style |
Tuxmat is going to give you the highest side-wall coverage, enhance the look of the car subtly (in my opinion), and not look like a plastic lunch tray on the floor.
I was considering the Tesmanian option for the cargo tray, but ultimately decided to stay with Tuxmat there to match. The Tesmanian cargo mat is two pieces which allows you to get at both sub trunks which I wished I could do with the Tuxmat where you can only easily get to the deeper one.
Tuxmat's cargo mat also arrives folded in the shipping box and initially has a bit of a raised bump from it in the middle which I was concerned about. After I went to the garden center the next day and transported some mulch and fertilizer it flattened out.
It stays in place using a rubber-textured bottom so no velcro to wear out the carpet with and you can still access the main sub trunk.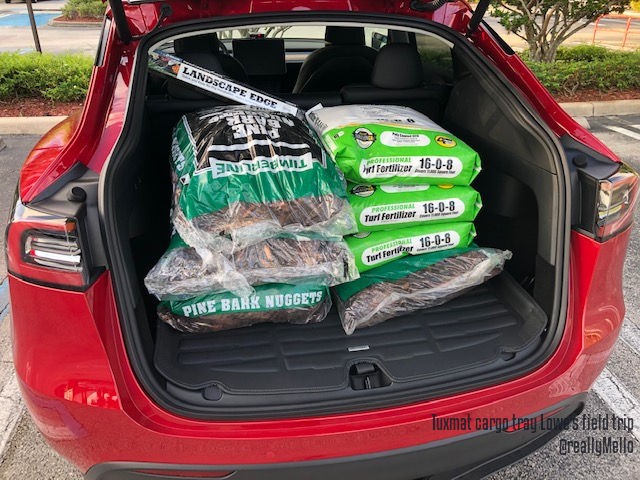 The Tuxmats are still my favorite accessory purchase for the Tesla so far. It makes the Model Y look really nice which I wasn't expecting floor mats to do and I don't worry about people with dirty shoes getting in the car.
Tesla Infotainment Screen Protector
When I test drove the Model Y I noticed some glare and fingerprints on the infotainment screen which I knew was going to bother me which got me looking into matte finish anti-glare screen protectors.
I really don't like the look or feel of them on phones and I'm pretty bad at lining them up and getting them on without getting some spec of dust under it so I spent a lot of research finding the best screen protector for the Tesla Model Y.
These are the qualities I felt the ideal screen protector needed to have
Reduces glare
Reduces appearance of fingerprints
Doesn't blur screen
Doesn't diminish responsiveness
Ease of installation (alignment, dust, bubbles)
This narrowed things down to the Spigen GLAS.tR and the Abstract Ocean tempered screen protector. I went with Spigen because I've had good experiences with their phone cases and their templated installation system seemed to be slightly better than Abstract Ocean's.
Below is a video of me installing the Spigen GLAS.tR screen protector
I'm very happy with the screen protector and found it delivers on the promise of reduced glare and fingerprints. With the template frame getting it lined up perfectly for the install was super easy. Screen clarity does not seem to be impacted. There is a slight rainbow effect with polarized sunglasses, but it doesn't bother me.
People seem to have similarly positive experiences with Abstract Ocean's version so you probably can't go wrong with either one.
Tesla Garage Door Opener
Hey so Tesla does not include that familar, standardized, and expected mirror HomeLink automatic garage door opener on it's cars. If you want that it costs another $325 and requires a separate service vist for installation. I didn't feel like paying that and had a smart garage door opener already. This seems to be where Tesla is pushing people towards in their reasoning behind not including one so I guess I was ahead of the curve.
I found NexxGarage to be the best option for smart garage door openers for my Tesla Model Y. I have it set to automatically open the garage was I approach the house using GPS. When I leave I use a siri shortcut to close the garage door. Auto-open is nice when it works, but it isn't as reliable as I would hope.
That being said smart openers just aren't as trouble-free as HomeLink since they involve both WiFi and a third party cloud service vs just line of sight radio signal directly to your opener.
There are competing products from Chamberlain like MyQ, but there is a monthly fee where NexxGarage does not. If Nexx's reliability doesn't get near perfect I may look into that one more.
Radar Detector Mount
Though I don't drive reckless or speed I still have a radar detector for general awareness and to remind me not to. In my last car, I had my Valentine 1 gen2 radar detector mounted on the car mirror and I had tapped power by splicing into the wires in the headliner area for the dome lights. I did not want to risk that on the new Tesla.
The Model Y has a convenient 12v adapter plug in the console arm rest I could power the radar detector with and I felt mounting the radar detector just above the Model Y's screen would be a cool look that wouldn't obstruct my view of the road.
So I used the included Valentine1 12v power adapter and hid its' power cord under the seats and floor mats and up behind the screen. As far as mounting the radar detector, I used a retractable cell phone mount that has a magnetic base and added a magnetic plate to the bottom of the radar detector. It came out really good. See how it came out in the below video.
This should work with other radar detectors and if yours doesn't come with a 12v adapter this adapter includes the cord and USB ports.
Mud flaps
Reading forum posts it seemed like many people were complaining that the Model Y's flared back end made it easier for it to be impacted by road debris kicked up by the front tires. I think the likelihood or severity of this is probably more regional to areas with more gravel roads or where road salt use is common.
In addition, Tesla seems to have started to include them standard in those regions. To be on the safe side I purchased the mud flaps from the Tesla store. They installed really easy by just popping out the existing plastic rivets and pushing in the ones they supplied. Installation did not require drilling. They look fine to me and function well so far it seems. No rubbing going over speed bumps in the long range version.
People who want to go with a set for the front and back seem to gravitate toward basenor mud flaps or ones from Tesmanian.
Final Thoughts
It's easy to go overboard with car accessories when you purchase a new car. Some get really cheasy or you may find you don't really need in hindsight like aftermarket lights, carbon fiber accents, protector protectors, organizers, and so on. I hope you found that this article helps you find the best of the must-haves.